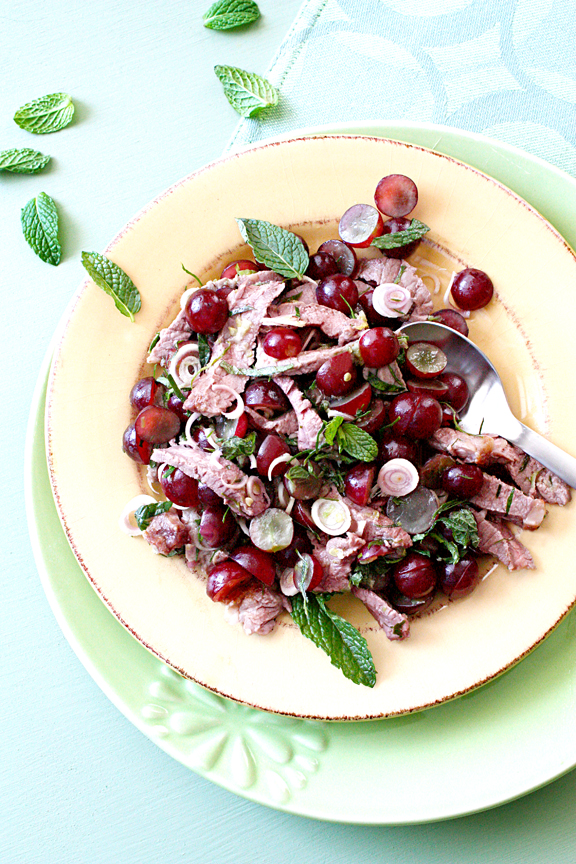 You have no idea how excited I was to be able to get Vichit Mukura, Executive Thai Chef of the Mandarin Oriental Bangkok, to grace this site with his Thai cooking knowledge and skills. For a long time this is what I've been wanting to share with you all. Those who have experienced his cooking at Sala Rim Naam restaurant can understand my excitement.
Chef Vichit is one of a few people the government of Thailand turns to whenever it plans a dining event of national scale. Remember when I told you about the menu of the state dinner in honor of President Obama back in November 2012? It was Chef Vichit who executed that menu (according to the mandate of Prime Minister Shinawatra who came up with the menu herself) and oversaw the kitchen operations.
There are many interesting things about the chef one of which is his passion in organic rice farming. I hope to tell you more about him and what he does in future posts. For now, please enjoy this video demo wherein Chef Vichit shows you how to make a spicy salad of grilled beef, grapes, and fresh herbs; it's an easy dish that lays a firm foundation for not only your Thai salad-making skill but also your understanding of what Thai salads are all about.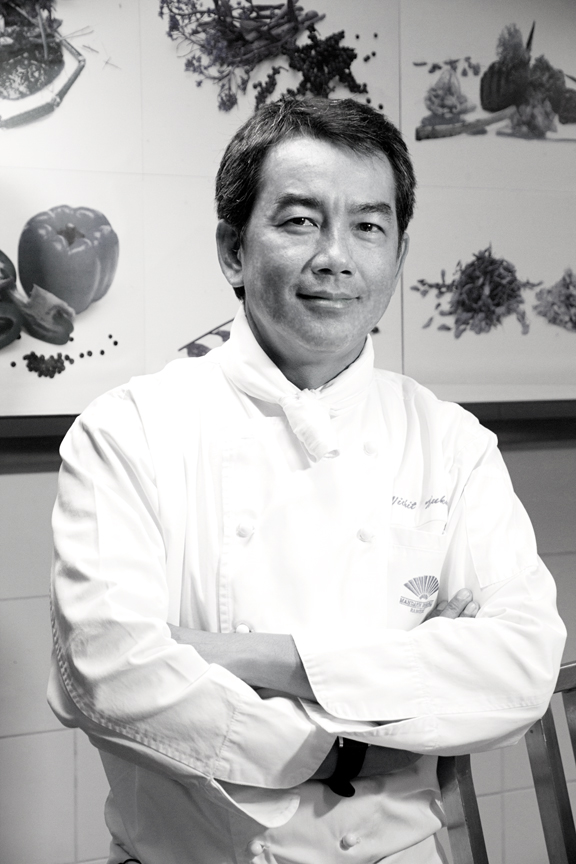 Before we get to the video, I'd like to add a couple of things to what Chef Vichit has mentioned in the demo.
1. The chef points out one thing which is often misunderstood about Thai salads: Thai salads are "warm salads" meaning, ideally, they are to be made to order and consumed right away. They're typically not the cold salads that are/can be marinated and/or refrigerated (think Russian Salad Olivier, French celery root rémoulade, or American-style potato salad). I would also add to his remark that Thai salads, though they are called "salad" and relegated to the "salad" section of overseas Thai restaurants' menus, are not traditionally consumed as a stand-alone course but as a rice accompaniment (kap khao — literally, "(that which is to be eaten) with rice"). Understanding this helps you season a Thai salad properly, i.e. in anticipation of the bland rice with which it is to be consumed, and understand why your local Thai restaurant seems a little heavy-handed with the seasoning of their salads.
2. Pre-made simple syrup (1 part sugar and 1 part water) has become a common salad dressing ingredient in modern Thai cooking. You can use palm sugar, if you'd like. But in this case, even though Chef Vichit doesn't state his reason, I can guess why he prefers simple syrup: it gives the salad a glossy appearance. When I tested this recipe at home, I made one batch with palm sugar in the dressing and the end result, though delicious, was not as aesthetically pleasant as the batch made with simple syrup. If the idea of making simple syrup in advance seems daunting, you can use granulated sugar; just make sure that it's completely dissolved in the fish sauce and the lime juice before you add the dressing to the salad.
That's it. Ready? Here's Chef Vichit and his spicy grilled beef and grape salad aka your new favorite Thai dish. Watch the video for instructions and tips; scroll down for the recipe.
I'd like to thank the team at the
Mandarin Oriental Bangkok
, especially Michael Nurbatlian and Chef Vichit Mukura, for their help.
_________________________________________
PRODUCTS THAT HELP YOU CREATE THIS RECIPE
Spicy Grilled Beef-Grape Salad
Author:
SheSimmers.com based on the original recipe by Vichit Mukura of the Mandarin Oriental Bangkok
Recipe type:
Salad, Rice Accompaniment
Ingredients
One 10-ounce piece of sirloin strip steak
2-3 teaspoons vegetable oil
1 cup small seedless red grapes
2 stalks lemongrass, trimmed
4 stems mint
3-4 kaffir lime leaves
2 large cloves garlic, peeled
Fresh bird's eye chilies, to taste (I recommend 2 tablespoonfuls.)
2 tablespoons fish sauce
2 tablespoons fresh lime juice
1 tablespoon simple syrup (see note in the post)
Instructions
Coat both sides of the steak with the vegetable oil. Grill over charcoal or in a grill pan to desired doneness. Keep the steak covered.
Halve the grapes (You can start this process while the steak is grilling).
Slice the lemongrass as thinly as you can, starting from the root end and stopping when the purple rings disappear at about 2 inches from the base; set aside. Keep the remainder of the stalks for other purposes (as suggested in the video).
Remove the mint leaves from the stems (you can reserve the sprigs for garnish, but this is optional). Pile them up on the chopping board and slice them crosswise into ⅛-inch strips; set aside. Reserve the stems.
Remove the center veins from the kaffir lime leaves. Stack the leaves together, roll them up tightly, and slice them slightly on the diagonal as thinly as you can; set aside.
Trim off the tough bottom parts of the reserved mint stems, keeping only 3-4 inches from the top. Cut them finely crosswise.
Put the mint stems, garlic, and chilies in a mortar or mini-chopper; grind to a fine paste.
In a small bowl, mix together the fish sauce, lime juice, and simple syrup. Add the prepared paste; stir to mix.
Slice the steak thinly against the grain into bite-sized pieces; transfer to a mixing bowl.
Add the prepared herbs and grapes as well as half of the prepared dressing to the steak bowl; toss. Taste to see if more dressing is needed. The salad should be spicy, equally salty, sour, and sweet. If you plan on eating this salad as a stand-alone salad course, you may not need the remaining dressing. But if you will eat this salad the Thai way, i.e. as a rice accompaniment, you want to season it in anticipation of the bland rice. This means you may want to use all of the dressing.
Once the salad tastes right to you, plate and serve it immediately.