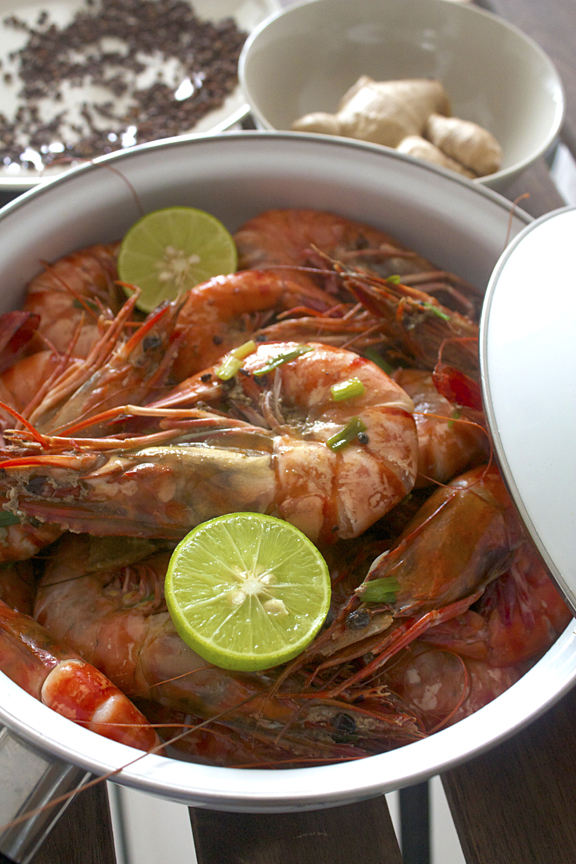 A long trip of traveling to different parts of Thailand and East Asia was responsible for my absence of late from the blog. But then it's also the guilty party who has given me many recipes, ideas, and stories to share with you in the weeks and months to come. So I hope you'll forgive me (big, toothy grin; head slightly tilted to the left; ten rapid blinks).
This recipe, for example, was picked up during a brief stop in Bangkok; it came from my friend M (to understand this post better, you really should read this older post about M first).
Knowing I was in town, M called and informed me of a new dish he said was a mashup between a Chinese shrimp dish that his mother-in-law often made and my dried pepper-butter shrimp (which isn't a traditional Thai dish; no need to write me). He added that it was so good that he always whipped it up whenever he got his wife mad, because once it was put on the table, ahem, she could never stay mad. Tender shrimp with buttery, aromatic sauce that goes beautifully with warm jasmine rice is conducive to marital harmony, M argued. Besides, it's kind of hard to be angry when you sit at the dinner table peeling shrimp with your hands and sucking the delicious juices out of their heads. In all seriousness, though, Leela, this is good stuff, he said.
You see, according to the way my brain interprets things, that was a dinner invitation right there. So that afternoon I showed up at M's condo with fresh ingredients and asked him to demo the dish. This is what happened.
M began by introducing his concoction to me as kung kha-yao (กุ้งเขย่า) and suggested that I translate it, ultra-literally, into English for the benefit of my readers as "shook shrimp."
A long, uncomfortable pause followed.
I finally broke the silence by suggesting that he might have meant "shaken shrimp." He said, no, it was shook shrimp. I said shaken shrimp. He said shook shrimp. I asked if he meant shook as in shake, shook, shaken. He said shook as in these shrimp were shook. I stared blankly half into space half at his face and asked again whether he meant shaken shrimp as in the shrimp would be shaken. He stared back at me and repeated that he indeed meant shook shrimp as in these shrimp were shook or, to be more temporally precise, these shrimp would soon be shook since we hadn't yet started shaking them at that moment. I said what the …? That was when he started singing, I'm all shaky and my knees are weak, da da da da da da da da, I'm in love, I'm all shook up, mmmmm, oh, yeah, then looked at me as if enlightenment was standing right there handing me its business card and I ran away from it with my eyes closed, screaming. After another long pause, I reminded him there was such a thing as shaken, not stirred. He asked where that came from. I said, Bond, James Bond. He asked who I would rather believe: the king or a fictional intelligence officer. I shut up, pulled a chopping board out of the pantry, and started chopping some ginger.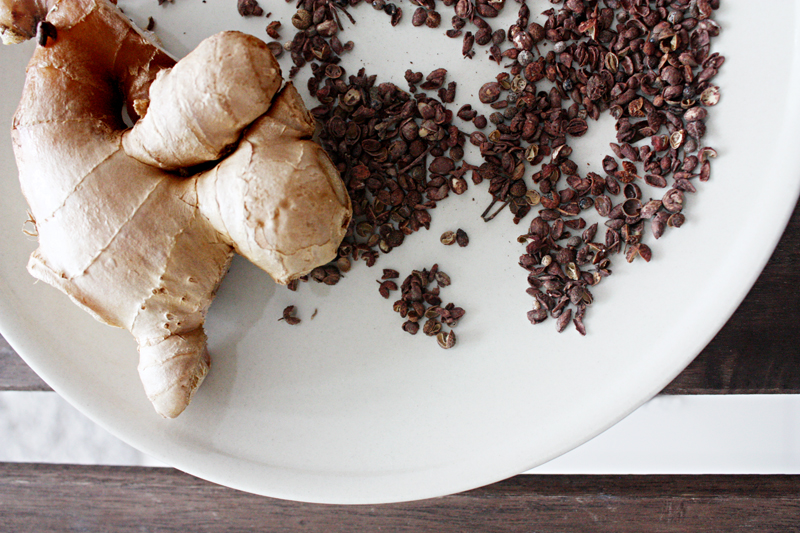 Notes:
1. Sichuan peppercorns can be found in the dried spice aisle of most large, well-stocked Asian grocery stores. If you can't find them, black peppercorns will do (in this case, no dry-toasting is needed). If you know you're sensitive to pepper heat, use half the amount indicated. But, really, this dish isn't very spicy.
2. With this cooking method, it's best to use shell-on, head-on shrimp. You get more delicious juices out of the shrimp that way.
3. A variation I like contains fresh chilies which I think complement the warm heat of sichuan peppercorns very well. If you'd like to try that, reduce the amount of the peppercorns by half and add 3-4 Thai bird's eye chilies, finely chopped, to the pot along with the other aromatics in step 3.
4. The limes are merely decorative; M's wife thought the photo needed something green. But you can squeeze one lime into the finished dish, off the heat, if you'd like.
_________________________________________
PRODUCTS THAT HELP YOU CREATE THIS RECIPE
Sichuan Peppercorn-Ginger-Butter Shrimp aka M's Shook Shrimp
Ingredients
2 tablespoons sichuan peppercorns (or black peppercorns), coarsely cracked
½ cup (one stick) unsalted butter, divided
2 large green onions, finely chopped
4 large cloves garlic, peeled and minced
One piece of fresh ginger measuring about 2 inches long and 1 inch across, peeled and minced
2 pounds shell-on, head-on colossal or extra jumbo shrimp (14-18 shrimp in a pound)
3 tablespoons fish sauce
Instructions
Put the sichuan peppercorns in an 8-inch skillet and toast them over medium heat, stirring constantly, for 2 minutes. Take the skillet off the heat and set it aside. (If you use black peppercorns, skip this step.)
Put the butter in a pot large enough to hold up to a gallon of water but not too large for you to lift it up and shake it. Melt it over medium-high heat.
Once the butter has melted, add the toasted peppercorns, green onions, garlic, and ginger; stir until everything sizzles and becomes fragrant, about 1-2 minutes.
Turn up the heat to high and add the shrimp and fish sauce to pot. Close the lid tightly. With the help of a kitchen towel, grab the pot and shake it -- as if you're making popcorn -- a few times every 30 seconds. Cooking time varies depending on the size of your shrimp, but your dinner should be ready in about 10 minutes after the shrimp went into the pot. You know they're done when they turn opaque and orange and have released the juices which have blended into the butter to form a delicious sauce for you to spoon over warm rice.