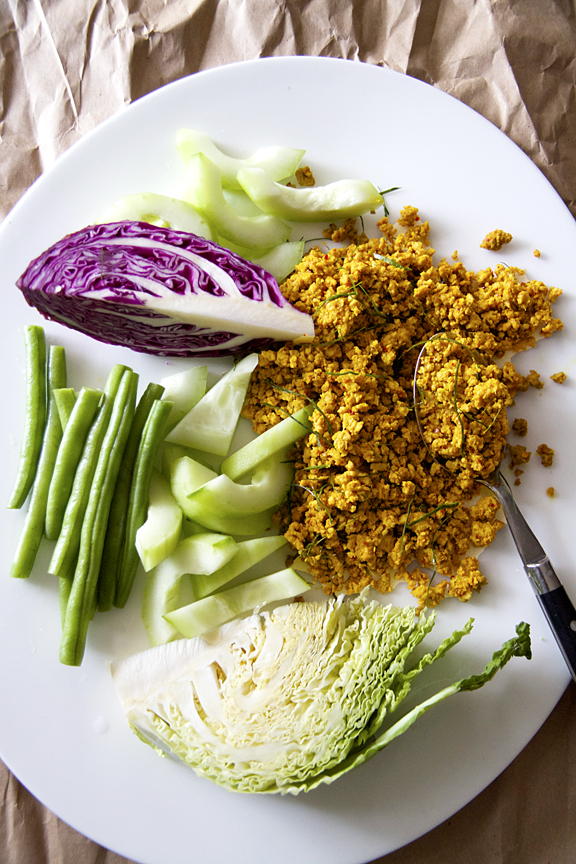 Long-time readers of my website have probably noticed this: I love Southern Thai food. There are many reasons, and I'll talk about them at a more appropriate time. Today is all about khua kling, the iconic Southern Thai dry curry which I love so much and—now that I think about it—counts as one of those reasons.
I recently had a chance to ask Varesara Smitasiri, owner of Khua Kling Pak Sod (literally 'khua kling [and] fresh vegetables'), one of Bangkok's hottest Southern restaurants, a few questions. One of her chefs had also done a demo of the dish for my readers. And this khua kling fanatic couldn't have been giddier. Though this fine home-style restaurant isn't the only place where you can get Southern Thai food in Bangkok, I'd be remiss to not include it on the list of great dining spots in the city. Really you should go.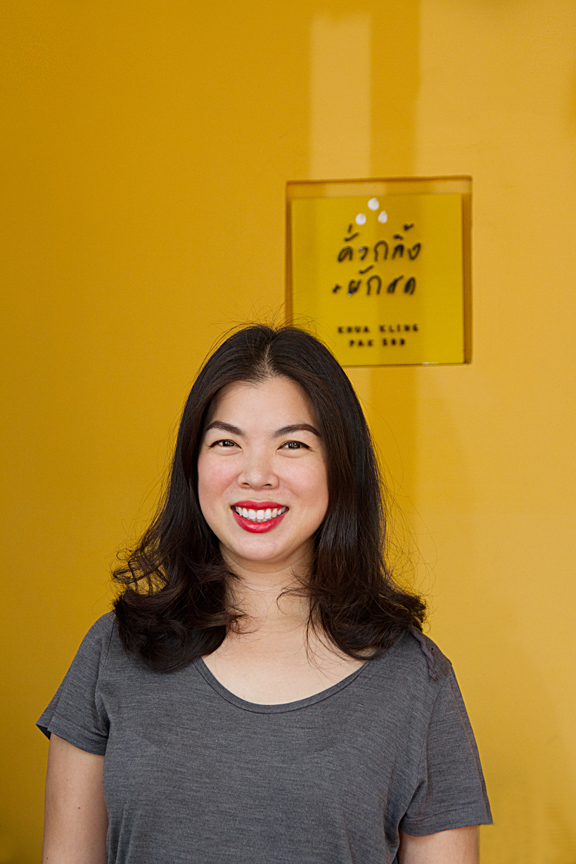 How would you say Southern Thai food is different from other regional cuisines?
Traditional Southern Thai food is renowned for its use of local herbs and spices and indigenous ingredients [1] to create strongly seasoned but balanced dishes that bring out the heady scent of those herbs and spices to the forefront. The heavy use of fresh seafood [2] also plays an important role. All of these factors have endeared Southern food to people all over the country.
And how are these features presented at Khua Kling Pak Sod?
Fresh ingredients are at their best when in season, so we put a lot of emphasis on seasonality. You can't make good food when you cut corners with ingredients—the quality of the chilies, garlic, shallots, galangal, lemongrass, turmeric needs to meet our standards. Even shrimp paste. I choose the type of shrimp paste that was used in the dishes I grew up eating. Actually, that has always been the goal: whatever I grew up eating at home, that's exactly what the diners get.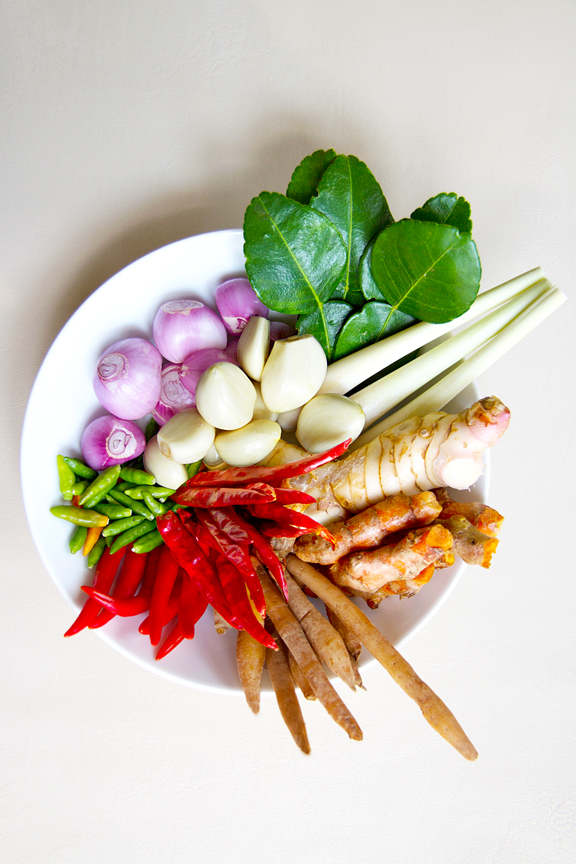 But the restaurant is based in Bangkok. Is it a challenge to get seasonal, indigenous ingredients from the South?
Some ingredients can't be grown in Bangkok. We need to have them delivered from the South. My extended family is based in Tha Sae District in Chumphon Province, and I can easily get fresh ingredients such as bai liang [3], sato [4], and shrimp paste delivered fresh, straight from my grandmother's home, every week.
From what you've been seeing, how well do Bangkokians take the spiciness of Southern food [5]?
Bangkokians have become more accustomed to Southern food over the years. You can see it from the new Southern restaurants that have been popping up in the city and from how Southern dishes have been making their way into existing restaurants. At Khua Kling Pak Sod, we're not about dumping chilies into our food—putting your mouth on fire isn't our goal. We're all about balance. There are some dishes that are very spicy hot; there are some that aren't so hot; and there are some that aren't hot at all and complement the hotter dishes well.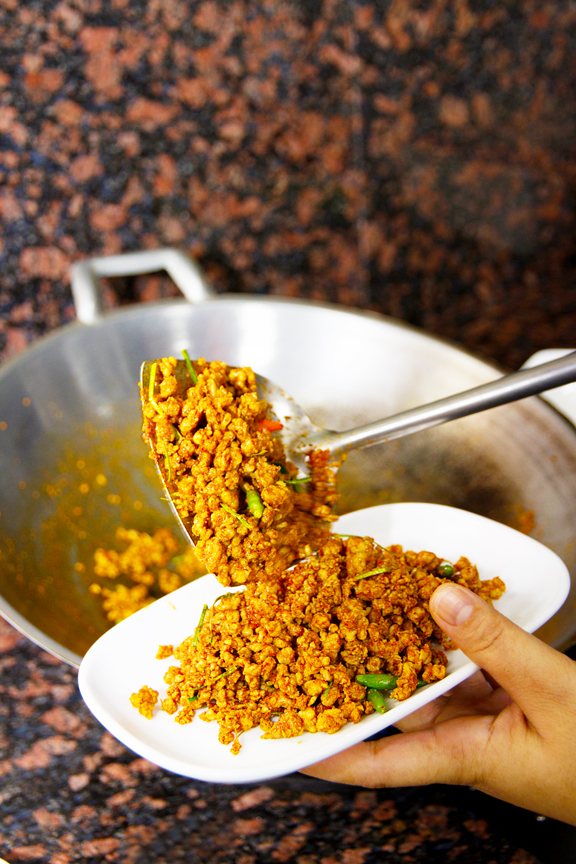 Khua kling as made at Khua Kling Pak Sod
Which menu item is the most popular?
It's hard to say, because several menu items sell well. But of all of the popular dishes, the most talked about is sour curry
[6]
of barramundi (
kaeng lueang pla ka-phong
แกงเหลืองปลากะพง) where we use very tender coconut shoots. We amp up the amount of shrimp paste in our house-made sour curry paste, and it results in a deeply flavorful curry broth which we spike up with a squeeze of fresh lime—the flavor is off the chart! This curry goes together so well with an omelet or sun-dried gourami, fried crisp.
Okay, so that's what the customers like. Which menu item do you like the most?
Stewed eggs with pork legs. It comes from my mother's recipe collection. But actually it's my father who had taught it to her—it's like an inheritance he'd left for us [7]. It's this dish that has made our restaurant famous.
How did the dish 'khua kling' become the name of the restaurant?
We wanted people to look at the name and know right away that this is a Southern restaurant. Also, khua kling is my mother's favorite dish.
And also because khua kling is emblematic of Southern Thai cuisine.
Yes, khua kling embodies all the things people love about Southern Thai food, I think. It's thoroughly perfumed with a fresh, herbaceous paste that packs not only potent heat but also intoxicating fragrance, especially with fresh bird's eye chilies and kaffir lime leaves. Khua kling with rice and fresh vegetables is, as we say it in the South, roi jang hu! [8]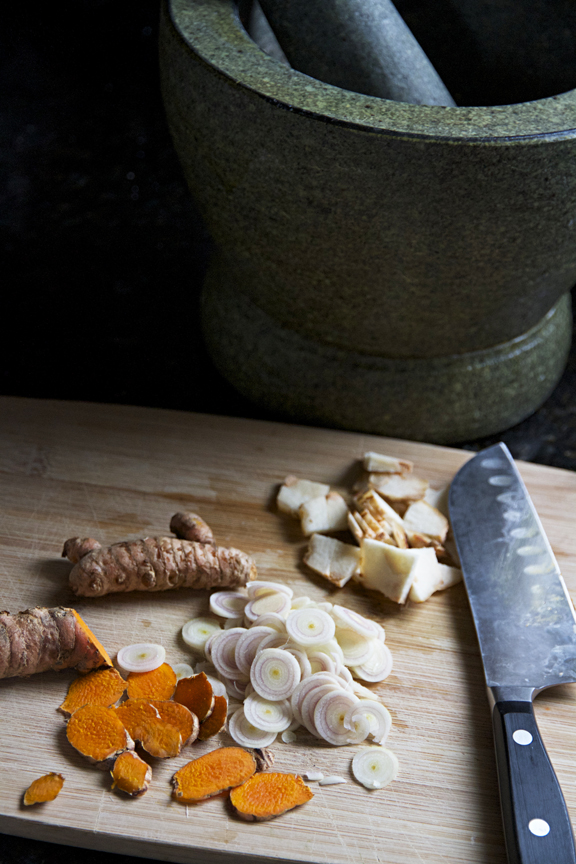 Is khua kling done differently at your restaurant? Do you make the dish your own way or do you stick with convention?
It's done pretty much the classic way—the same way we've made it since my grandmother's generation. We use fresh meat and freshly made paste. We don't add any oil to the dish—the meat already comes with some fat. Then we khua [9] the meat with the paste until all the flavors meld together thoroughly. We also kick it up with freshly ground white peppercorns. It makes the finished dish so fragrant.
Any secrets?
Nothing other than that you can't rush the khua process. It must be done on moderate heat and slowly. The paste doesn't just adhere to the meat; it blends right into it.
And this is where a lot of people go wrong.
That's right. Some people rush it and it shows in the results.
What about home cooks who live in places where fresh ingredients aren't readily available? What can they do to produce great khua kling at home? What are the non-negotiables for khua kling—you know, the things without which you might as well make something else?
Having the ingredients for the curry paste is, of course, very important. And having good quality shrimp paste is part of what makes the curry paste good—no way around that. But if you really can't find fresh ingredients, you can use store-bought Thai red curry paste and doctor it up with a bit more garlic and fresh turmeric.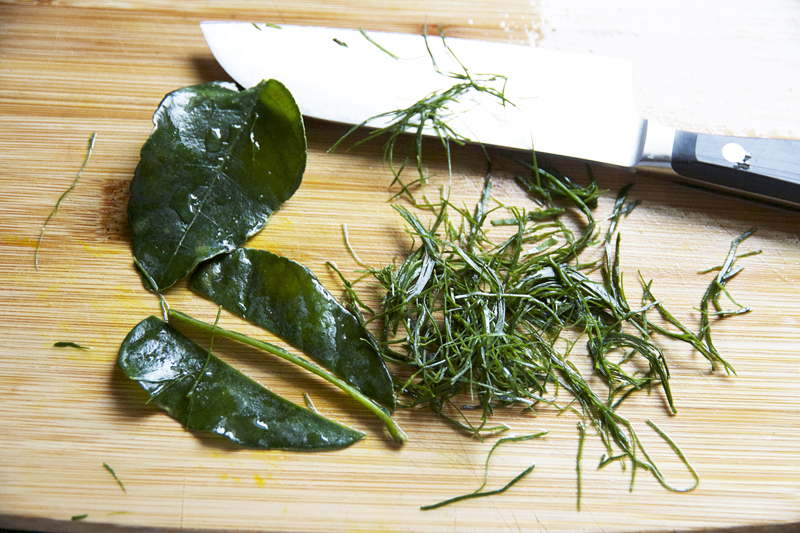 The recipe below produces the classic khua kling which is supposed to be very spicy. Spiciness is not a marker of "authenticity" or even good quality when it comes to Thai food (though some food articles may give you that impression). But in the case of khua kling, as every Southern Thai will tell you, if it's not hot, it's not good. I agree. If you can't handle this level of heat, don't feel bad; there are other Southern Thai dishes you can enjoy—Southern Thai grilled chicken, perhaps? But to remove or drastically reduce the number of chilies from this dish would be to kill its soul—I wouldn't do that.
That said, one of the ways to tone down the heat without compromising the integrity of the dish is make the recipe as written but eat a smaller portion of it with a lot of rice. That's what most Thais who can't handle heat would do, and I think it's a better alternative than to alter the recipe.
I'd like to thank Varesara for opening her kitchen to SheSimmers and for what she has graciously shared with us. Stop by Khua Kling Pak Sod when you're in Bangkok. The restaurant has three branches. Call the following numbers for more information, directions, and hours:
Thong Lo (Sukhumvit 55): (0)21853977
Soi Ratcha Khru (0)26172553
Soi Prasan Mit (Sukhumvit 23): (0)22595189
_________________________________
Leela's Notes
[1] Many of these ingredients are difficult to find outside the South—even in Bangkok where things from all of the country are routinely flown or bused to. And to make it worse, more often than not, there are no acceptable substitutes for them.
[2] The South is flanked by Andaman Sea and South China Sea. Everywhere you look, there's seafood.
[3] Leaves of Gnetum gnemon.
[4] Parkia speciosa
[5] Some Southern Thai dishes are extremely hot.
[6] Southern Thai curry versus Central Thai sour curry
[7] Varesara's father has passed away.
[8] An informal expression—sort of like, "So yummy!"
[9] Toast.

Southern Thai Dry Curry (Khua Kling) and Khua Kling Pak Sod Restaurant
Ingredients
15 dried red bird's eye chilies (no substitute, not even dried red long chilies or guajillos), stemmed (do not devein), soaked whole in warm water until soft, squeezed dry
1 teaspoon salt
1 teaspoon white peppercorns
1½ tablespoons coarsely chopped galangal
2 tablespoons thin slices lemongrass (refer to page 206 of Simple Thai Food for detailed explanation on how to prepare lemongrass for a curry paste)
3 tablespoons coarsely chopped fresh turmeric roots
1½ tablespoons coarsely chopped cilantro roots or stems
2 teaspoons finely sliced makrut (kaffir) lime rind
2 teaspoons packed shrimp paste
3 large cloves garlic
1 tablespoon coarsely chopped fingerroot or krachai (Read about this herb on pages 204-205 of Simple Thai Food)
10 red (don't use green) bird's eye chilies
2 tablespoons finely sliced shallots
1¼ pounds ground pork (not too fatty and not too lean)
1 teaspoon palm sugar or ½ teaspoon brown sugar
1 teaspoon ground turmeric
1 teaspoon ground white pepper (preferably freshly ground)
Fish sauce, to taste
4-5 large kaffir lime leaves, deveined and sliced into whisker-thin strips
Additional 7-8 fresh bird's eye chilies, optional
Sides vegetables: yard-long beans (or green beans), cucumbers, napa cabbage, green cabbage
Instructions
Pound the curry paste ingredients (starting with the chilies all the way down to the shallots) into a smooth paste (refer to page 175 of Simple Thai Food for detailed explanation on how to pound curry ingredients in a mortar).
Put the paste and the pork in a wok or 12-inch frying pan. Set over medium heat and stir-fry, breaking up the pork into fine pieces with the blunt end of the spatula along the way. When the pork barely turn opaque, stir in the palm sugar, ground turmeric, ground pepper, and 2 teaspoons of the fish sauce to start. Continue to stir-fry until there's no moisture left in the wok and the pork has cooked through. (The whole process shouldn't take about 10-15 minutes—this is not a quick stir-fry. "Toast" everything slowly and thoroughly.) Taste and add more fish sauce as needed. You want this dish to be salty and hot—very hot—and almost no trace of sweetness (the sugar is there only to round out the flavor).
Stir in the kaffir lime leaves and take off the heat.
Serve with lots of rice and cool, crisp vegetables alongside.