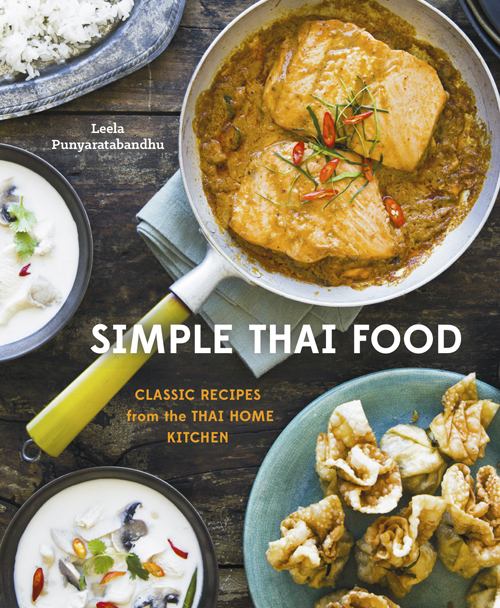 Remember when the Zealous Water Buffalo told you many months ago that I was writing a book? Well, it's done. Simple Thai Food: Classic Recipes from the Thai Home Kitchen won't be available until around mid-May, but if you preorder it now, you will be among the first people to get it.
That's not all, if you preorder the book now, you will be given access to a video tutorial on how to make red curry from scratch, from the homemade paste to the finished dish. I do not intend on making this video public on the blog or elsewhere, at least within the next year or so. So it will be available immediately to only the early birds among you and no one else. So, please be sure to keep the email confirmation from your bookseller of choice (Amazon, Barnes & Noble, IndieBound, iBooks, and Google Books) when you preorder.
You have until Thai New Year (April 13) to do so which is when I will tell you how to redeem your gift.
But first, let me tell you a bit about the book so you know what you're investing in. In keeping with the theme of simplicity, I will sum up this book into one sentence.
This is a

curated collection

of simple recipes that help you replicate
over 100 well-known Thai dishes the way they are generally made in the present time.
What does that mean?
1. Any Thai person who grew up eating Thai food knows every single one of these dishes. These are well-known, everyday dishes. There are no new inventions; there are no riffs; there are no so-called "Thai-inspired" dishes. There is nothing that is obscure and known only among people from a certain sub-culture, language group, or region.
2. There's no attempt to recreate these dishes as they might have been made 100 years ago or to track their evolution diachronically; the book tells you how to make things the way they are generally made today. This means hours of research have gone into it. This means I consulted the works of so many people in the world of Thai food whom I respect, interviewing them, picking their brains, in order to be sure that my recipes, which represent the versions of these dishes as I grew up eating them, aren't very — if at all — different from what other Thais in my generation grew up eating. This is important to me.
3. The question in the back of my mind the entire time I was writing this book is: What's the easiest, most convenient, least expensive way to create these classic dishes most faithfully? This one question was a flashlight to my sometimes discombobulated feet as they traveled the often dark and labyrinthine path of writing a book. It, and my editor at Ten Speed Press, helped keep me on the right track to accomplish the mission we had set for this particular title.
The answer to that one question is what shapes the content of this book.
4. Since one of the goals is to create these Thai dishes faithfully, there are times — not many, though — where the ingredient requirements aren't so forgiving or flexible. I mean, for example, you can't make tom kha gai, literally 'galangal chicken soup, without galangal, right? Most of the time, however, I make suggestions on what substitutes work well and how to make the most of the produce, which you can find easily where you are. Yet I never do that at the expense of omitting information about the traditional ingredients and methods.
What others have said about Simple Thai Food:
"Simple Thai Food is just what folks need: a simple, easy-to-follow cookbook on a delicious cuisine (and one of my favorites!) that most people aren't used to making at home. With clear, friendly instructions and valuable tips and techniques, Leela unlocks the flavors and seasonings of real Thai cooking—spicy salads, coconut-rich soups, blazing bowls of curry, and the fiery, flavorful condiments that go alongside. Thanks to Leela, I'm excited to create these authentic Thai dishes in my own kitchen!"
—David Lebovitz, author of My Paris Kitchen
"In this compendium of favorite Thai dishes, Leela has managed to make the recipes accessible and straightforward for a home cook, and to keep them very true to what a modern Thai cook (in Thailand as well as in the West) would recognize as 'authentic.' She does offer substitutions when ingredients are more difficult to find, but they never skew far from what a Thai mom would use in her own kitchen. Leela even sneaks in a few dishes that you might not find in your local Thai restaurant, but will probably become your favorites!"
—Andy Ricker, chef/owner of the Pok Pok restaurants and author of Pok Pok
"Leela has crafted an authoritative, opinionated, and thoroughly down-to-earth collection of traditional Thai recipes, written especially for cooks who weren't lucky enough to be born in Thailand. All the basics are here, beautifully organized, from curry paste to coconut milk and beyond."
—David Tanis, author of One Good Dish
"Simple Thai Food is a beautiful snapshot of Leela's effort to stay connected to her Bangkok roots through food, and a wonderfully practical guide for those of us who want to create authentic Thai flavors at home."
—James Oseland, editor-in-chief of Saveur and author of Cradle of Flavor
"Leela re-creates her beloved taste memories, and then invites us in—offering tools, inspiration, and fresh context in equal measure. You will want these recipes for so many reasons—the craft, joy, deliciousness, backstory—and you will want (and come close to experiencing) Leela herself at your table, imparting her fine intelligence and warmth."
—Mollie Katzen, author of The Moosewood Cookbook and The Heart of the Plate
"… There is enough here for both the novice to Thai flavors and the experienced eater. All in all, this is a solid, simple introduction to Thai food …"
—Publishers Weekly
___________________________
To celebrate this book, I will host 5 giveaways,
one each day for the next 5 consecutive days, on this site.
Please come back here each day this week
to find out what you can win.
The giveaways are open to everyone who sees this.

No purchase necessary.