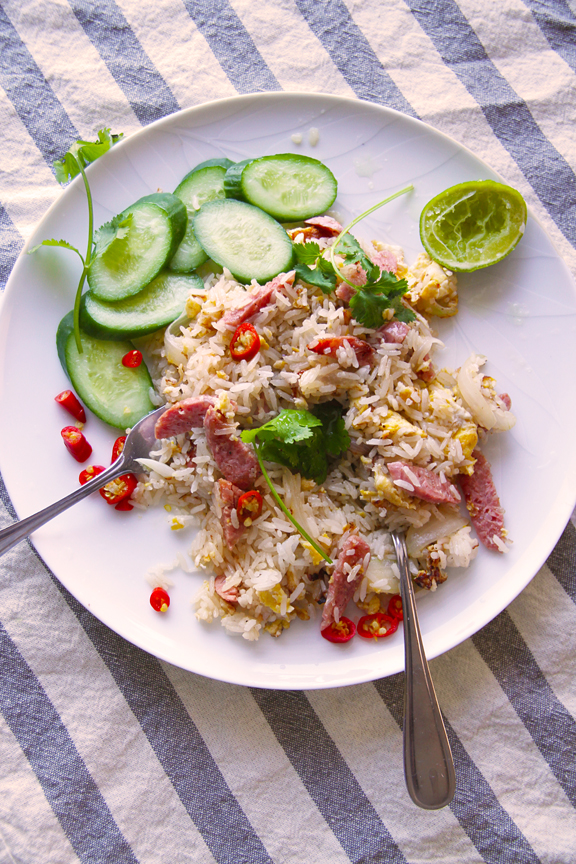 Five years ago, I brought naem to your attention. Since then I've shown you how to make a pork rib version and a beef short rib version of it. I've sneaked into the kitchen of a restaurant in Chicago that serves a crispy rice salad featuring this cured meat. I've dragged my rear end to a street stall in Bangkok in the middle of the night to bring you another version of said rice salad with naem. Most recently, I've also shown you how you can add naem to a Thai-style omelet. So I'll assume you're familiar with this type of cured pork* that's heavily consumed in Thailand, Vietnam, Cambodia, and Laos. If not, please read this post.
Another way to enjoy this flavorful cured sausage is to make fried rice out of it. You hardly need a recipe. All you have to do is taking your favorite Asian fried rice recipe and replacing the meat in it with the same amount of naem. But here's a recipe—just in case. This is how I usually make my naem fried rice.
________________
*Also referred to soured pork, soured pork sausage, fermented pork, cured pressed ham, etc.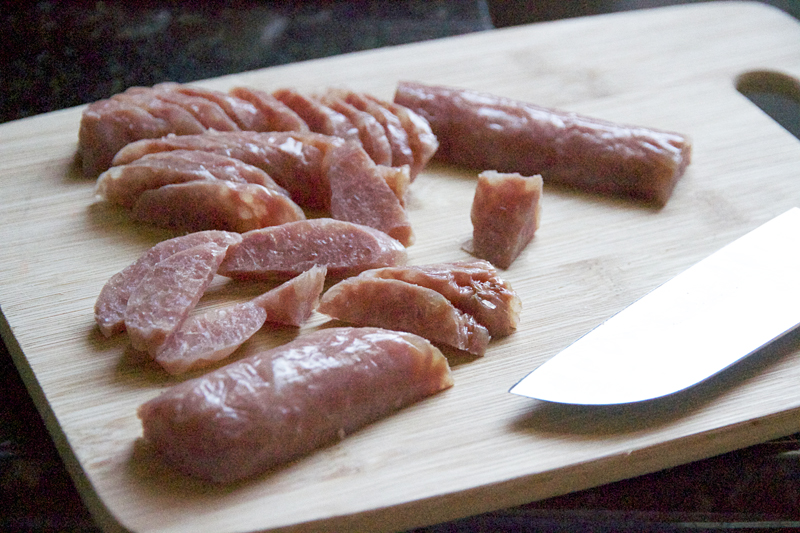 Fried Rice with Cured Pork (ข้าวผัดแหนม)
Recipe type:
One-Plate Meal
Ingredients
2 tablespoons vegetable oil
2 large cloves garlic, minced
2 small yellow or white onions, cut lengthwise into ½ inch slices
3 large eggs
4 ounces naem, cut into bite-sized slices
2½ cups packed leftover cooked long-grain rice
2 teaspoons fish sauce
2 teaspoons thin soy sauce
¼ teaspoon granulated sugar
½ teaspoon ground white or black pepper
1 lime, halved lengthwise, cored
2-3 Fresh bird's eye chilies, cut crosswise into thin slices
2 Persian cucumbers, cut crosswise on the diagonal into ¼-inch slices
Cilantro sprigs for garnish
Instructions
Heat the vegetable oil over high heat in a wok. When hot, add the garlic; lower the heat to medium-high and stir-fry until fragrant, about 1 minute.
Add the onions, sauté until softened and slightly caramelized.
Push the onions to one side of the work and crack the eggs into the other side; scramble until almost firm.
Add naem; stir-fry until heated through, about 1 minute.
Add the rice, fish sauce, soy sauce, sugar, and pepper; stir-fry until everything is well combined and heated through.
Plate the fried rice. Arrange the cucumbers, lime, and chilies on the side. Garnish with the cilantro. Squeeze the lime over the fried rice before enjoying.