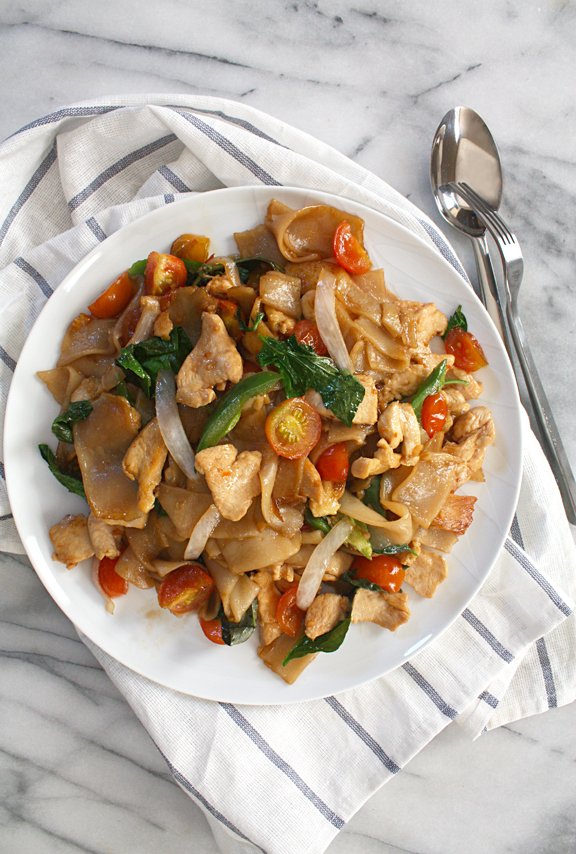 I'll tell you about this noodle dish and how to make it (my way) in just a few moments. For now, please let me announce that Simple Thai Food: Classic Recipes from the Thai Home Kitchen is here!
The book has become available online since last Tuesday, May 13th, and is now starting to pop up at the major brick & mortar bookstores both in the United States and internationally (Bangkokians, check out Kinokuniya, Asia Books, and The Booksmith).
If you're familiar with shesimmers.com, I think you have come to know what to expect of me. And you're probably wondering whether the book will be just like the blog.
Well, it is and it's not.
It is like the blog, because it was written by the same person and with the same ethos. I have and will always be someone who tells you how a dish is generally made in Thailand, how that same dish may be made a little differently when reinterpreted by a stateside Thai chef, what goes into it, what components I think really need to be there, what ingredients can be substituted and with what. Then without waving the authenticity card at people (because I don't know what it is), I encourage people to use that information to do what works best for them as long as they adjust their expectations accordingly.
But the book is not like the blog, because on here I do whatever I darn well please. I'm not governed by word limits or, actually, anything. If I think a blog post requires 1,500 words, I write 1,500 words (or more — this post, for example). If I think it takes a series of multiple posts to tell you everything I wish someone had told me when I was struggling to make a certain dish the right way, I write a series of multiple posts. If I believe that it takes 10 photographs to show you what each ingredient looks like and to illustrate the key steps, I include 10 photographs. I make all the foods you see on this blog, unless otherwise stated. I style everything. I take my own photographs. It doesn't matter how much time and money go into each post or what the end result looks like; in the end, each blog post is available for everyone to read – at no cost to them.
You can't do that when you write a book – one that makes economic sense to make and to buy, that is.
Having said that,
1. The book contains several recipes that have never been — and will never be — published on this blog.
2. The book goes into great details about how a typical Thai meal ensemble is composed and how your understanding of how to prepare, season, and serve Thai food rests on that information.
3. The book contains a pretty extensive ingredients glossary wherein I don't glibly and curtly tell you that, oh, galangal is a rhizome or kaffir lime leaves are the leaves of the kaffir lime tree or that lemongrass stalks are long. You can Google all that. What I tell you in the book is what I do to make them stay fresh longer, how I prepare them once purchased, how to choose them at the market, etc. I have not — and most likely will not — discuss these things in detail on the blog.
___________________________
There are many factors governing how a book is produced, many of which newbies won't know exist until they're already deep into the process of bookmaking. These past two years, I have learned so much about a world that, though fascinating, was devastatingly foreign to me. I think I have grown up along the way, too, if that means anything.
The finished book is the work Ten Speed Press and I have worked on for nearly two years, and I believe we have achieved what we set out to do.
On this blog, I throw a mishmash of things at you depending on what I feel like cooking or what happens to be on my mind when I sit in front of the computer. Sometimes, I give you a recipe from the 1900s; sometimes, I tell you about a ghost and a shrimp paste relish; sometimes, I give you a recipe so easy you can make with your eyes closed; sometimes, I worm my way into a professional kitchen to get you a recipe used commercially; sometimes, I give you a recipe that's been with my family for decades; sometimes, I share with you a recipe that's been with someone else's family for decades, etc.
Unlike the blog which is an ongoing, ever-evolving entity constantly led by my whims, the book project started out with a firmly established mission and ended with a finite product that fulfilled it.
Simple Thai Food is written for Thai food fans who are motivated to replicate their favorite Thai dishes at home but aren't always sure whether they have what it takes (they do!). The book is intended to be a collection of entry- to mid-level recipes for well-known Thai dishes which are easy to make and don't require special equipment or cooking skills matching those of professional cooks or street vendors. It seeks to build a solid foundation on Thai cooking, giving people what they need to know without weighing them down with detailed information.
The idea came from an American friend of mine, a classmate back when I was still in school, who wondered out loud (and I paraphrase): "Is there a book that curates all the well-known, everyday recipes that help me get from not knowing much about Thai cooking to being able to say – without deluding myself – that I am now a bona fide Thai home cook, that I know Thai food?"
This question was on my mind every single day as I was slaving away in the library and the kitchen writing this book. The moment the book formed a definite shape, I knew that anyone, regardless of their background, who gets a good practice on the recipes in it would become exactly that, a bona fide home cook of Thai food. And that is more than many busy Bangkokians who don't cook at home (I'm friends with and related to many of them) can say.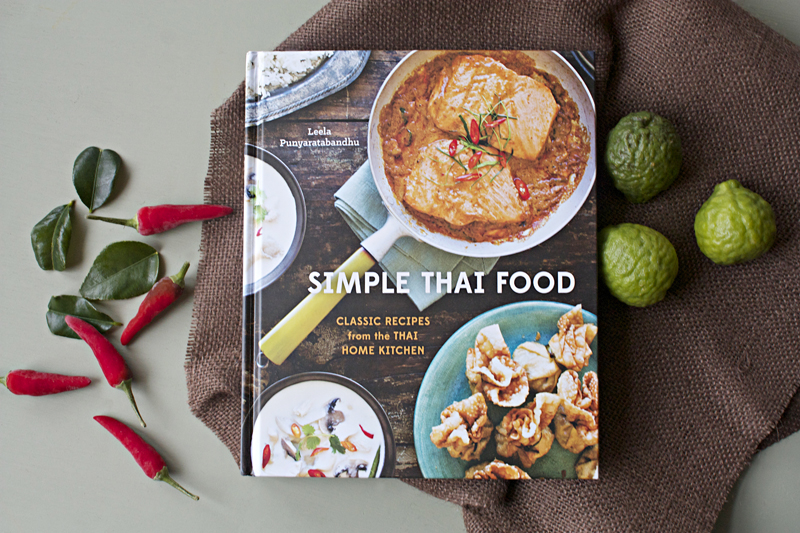 Okay, now, the noodles.
Here's what I'd like to say about the dish:
Identity
In order not to be confused, you need to know that long before this stir-fried noodle dish came on the scene, there existed a spicy and aromatic meat-based stir-fry (very similar to pad kaprao), called pad kee mao (ผัดขี้เมา RTGS: phat khi mao). This pre-existing dish is said to have been popularized by members of various drinking circles wherein spicy, herbaceous, chunky meat dishes are often served to accompany the libation. The name literally means, drunkard's stir-fry, for this reason.
Then came a spin-off of this dish with noodles added to it. And that's when things got complicated. While the mother dish remains in its traditional form and can still be found in Thailand, the daughter has taken off on her own and traveled — solo — widely in the West; her popularity has eclipsed that of her mother whose name she has presumptuously assumed.
Name
1. Officially, the name of the dish should be kuay tiaw pad kee mao (ก๋วยเตี๋ยวผัดขี้เมา RTGS: kuai-tiao phat khi mao), the way it's called in Thailand to differentiate the daughter from her mom. If you go to a restaurant or made-to-order-food stall in Thailand and order "pad kee mao," you get just that, a stir-fry – a lonesome, fragmented entity screaming for a plate of rice to complete it. Failure to include "kuai-tiao," the generic word for "noodles," when you place the order means you'll be sitting there with a plate of stir-fry, carbless and confused.
This is like how it is with ice cream and an ice cream sandwich. Ice cream came first. Then people put it between two cookies and they got an ice cream sandwich. Now, imagine an ice cream sandwich showing up on menus merely as "ice cream" in places around the world where people don't know of ice cream. The same thing is going on here.
Why, then, is the word "kuai-tiao" not included on the menus of most Thai restaurants overseas? Because they usually don't serve the mother and, therefore, feel no need to do anything to prevent the two dishes from being confused with one another. Thai restaurants outside Thailand routinely truncate the names of several dishes (at the expense of correctness), anyway, most likely to make things easier for people to say.
2. The nickname, derived from the literal translation of the Thai name, should be "drunkard's noodles," not the more popular "drunken noodles." Consider the origin (above) for this to make sense. Implication: an oft-repeated claim that this dish needs a splash of rice wine to properly call itself "drunken noodles" is patently false. The alcohol doesn't go into the dish; the alcohol goes down the throat of the person eating it. Any drunkenness within this noodle-human relationship – if it happens – happens on the part of the human, not the noodles. Saying that the noodles are "drunken" because they have absorbed the flavors of the seasonings (name one fried noodle dish that doesn't?) is just as uninformed.
Eggs or no eggs?
The way most Thai restaurants outside Thailand prepare this dish has led people to think of it as a spicier version of pad see-ew. And since eggs are often added to pad see-ew, some restaurants also add eggs to their pad kee mao. Not all of them do, though. I once asked people on Facebook whether the pad kee mao they'd seen contained eggs. The answers varied.
I am of the opinion that since eggs aren't an ingredient in the mother dish, they shouldn't be required in the daughter which came out of the marriage of the mother and a starch in the form of noodles? Also, from my experience, none of the various permutations of noodles pad kee mao which I have seen in Thailand contains eggs. The one my mother always made, for what it's worth, didn't contain eggs.
But all foods evolve and change over time. So if you would like eggs in your noodles pad kee mao, by all means, stir 2 lightly beaten eggs to the wok before you add the noodles.
_________________________________________
PRODUCTS THAT HELP YOU CREATE THIS RECIPE
Rice Noodles "Drunkard's Style" with Chicken
ก๋วยเตี๋ยวผัดขี้เมาไก่ kuai-tiao phat khi mao kai
Reprinted from Simple Thai Food by Leela Punyaratabandhu, copyright (c) 2014. Published by Ten Speed Press, a division of Penguin Random House, Inc.
2 fresh bird's eye chiles, or fewer or more to taste, stemmed
2 large cloves garlic
1 large shallot, about 1 ounce
1 pound fresh wide rice noodles[*]
8 ounces boneless, skinless chicken breasts 2 tablespoons vegetable oil
1 yellow or white onion, cut into 1-inch-wide wedges
1 tablespoon fish sauce
2 tablespoons oyster sauce
2 tablespoons thin soy sauce
2 tablespoons sweet dark soy sauce
2 teaspoons packed grated palm sugar, or 1 teaspoon packed light or brown sugar
1 fresh large red or green Thai long chile, cut lengthwise on the diagonal into 1⁄4-inch- wide strips
1 Roma tomato [**], quartered lengthwise, then quarters halved crosswise
1 cup loosely packed fresh holy basil leaves[***]
In a mortar or a mini chopper, combine the bird's eye chiles, garlic, and shallot and grind to a fine paste. Set aside.
If the noodles are in sheet form, rather than precut, cut them lengthwise into 1-inch- wide strips and separate the layers into singles. Cut the chicken against the grain and on the diagonal into thin, bite-size pieces.
Heat the oil in a wok or a 14-inch skillet set over medium-high heat. When the oil is hot, add the prepared paste and stir until fragrant and slightly thickened, about 1 minute. Turn up the heat to high, add the onion wedges and let them brown on the underside, undisturbed, for 2 minutes. Flip them and brown the second side for 2 minutes. Add the chicken and fish sauce and stir until the chicken is cooked through, about 2 to 3 minutes.
Add the noodles, oyster sauce, light soy sauce, sweet soy sauce, sugar, long chile, and tomato and stir to mix. Cook, stirring occasionally, until the noodles soften and the sauce is absorbed, about 5 minutes.
Remove the pan from the heat, add the basil, and stir just until wilted. Serve immediately.
[*]Or 8 ounces dried XL rice sticks, cooked until al dente in copious amounts of water, pasta-style, rinsed in cold water and well drained
[**]Or 5-6 cherry tomatoes, halved
[***]Or Thai purple basil leaves, or even Mediterranean basil leaves, in a pinch.
___________________________
Enter to win a copy of Simple Thai Food. There are 5 copies up for 5 winners with addresses in the USA. No purchase necessary. I'm only asking that you follow SheSimmers.com on Facebook and Twitter which most of you have already done. You have 7 days to enter. The five winners will be notified via email and their names will be posted here at the end of the giveaway period. Good luck!